Fishing Borden Lake in June with Chapleau Lodge
Would you like to contact to check availability or learn more?
Fill out the info below and someone from will get back to you.
Email Sent
This past summer, I guided my wife, youngest daughter and her husband for a week at a unique fishing lodge just outside Chapleau, Ontario.
Over the '16 winter my wife and I along with our youngest daughter and her husband planned a fishing trip for the four of us in Northern Ontario. We looked for a nice Lodge that would offer updated cabins, quality trophy fishing potential with a one day drive from Eastern Ohio.
Fortunately, I had a good friend (Don D) from Cincinnati, Ohio who highly recommended a Lodge located on Borden lake. Don is a international commercial airline pilot, who loves to fish for trophy Bass up in the north country. We had met at another Ontario camp years before, and Don had told me about Chapleau Lodge; which has nice clean cabins, great fishing for Bass, Walleye and Lake Trout; and was the only Lodge on the lake. It also offers a small motel, a lodge dining room with a bar, and WiFi in the cabins and motel rooms.
After talking with the Lodge owners, I booked a water front two bedroom cabin that we enjoyed for a week in mid-June. Our cabin (the Bear Claw) was clean, and on the waterfront. We had our own private dock for my 19' Lund Pro-V, with an electrical outlet for electric service to the dock. The Lodge owners were very kind and helpful with little items, and having the WiFi at our cabin was a great benefit. Our cabin had a very nice lakeside area with chairs for evening camp fires, and they also have a beautiful swimming pool (with nice deck) beside the Lodge. All the cottages have a fridge, stove, microwave, gas barbecue, dishes, cookware, electric heating, hot water, 3 piece bathroom and bed linens.
Typical Northern Beautiful Ontario Lake
Borden is a typical northern beautiful Ontario lake (and as we found has little boat traffic). The other guests and families we met during our week were nice folks from various mid-west states; and most were longtime guests at the camp. Some also brought in their own boats, while others rented camp boats. During our week on Borden lake, fishing was slower than I expected. We learned this was due to prior abnormal cold weather temperatures the Chapleau area had experienced for several weeks prior to our arrival (large rain storms raised the lake level up over 2' from normal pool). Though as our luck would have it, my friend Don D was also at camp for the same week, breaking in his brand new '21 Ranger bass boat. Don also experienced the slower fishing, which was frustrating for everyone at the camp. Most folks I talked with were long time repeat guests that book specifically in mid-June for the normally excellent fishing.
Borden Lake is a spring-fed lake over 12 miles long with most of the lake basin 40'-60' deep. There is a larger area where the lake basin drops to 200 feet, and folks will fish this area for Lake Trout and Whitefish. Along with all the islands, there are a number of reefs, shallow bays, sand flats and weed beds to fish. The lake has 78 miles of shoreline with over 80 islands, and mainly forested shoreline with a few private homes and private cabins.
Spinnerbaits, Stick Baits and Bottom-Bouncing
We started out the first day fishing several side bays off the main lake basin. We caught nice 2 lb Smallmouth Bass working the shoreline cover with Spinnerbaits and stick baits, as well as several small pike. The next day I was talking to Don, who offered to show me around the lake and some of the better areas to fish at the northern end of Borden. Don showed me small bays, main lake points, islands and feeding flats that had been very productive for him.
We then split our time over the rest of the week bass fishing and walleye fishing, which consisted of working shoreline cover and weed beds, and trolling either hard baits or bottom-bouncers with crawlers (or leaches). While we caught plenty of fish (including some decent northern pike) for a number of evening fish fry's for our family; the lack of consistence and trophy size fish was disappointing.
Don (and a number of other guests) told me through out the week that this was a great fishing lake, and we had run into a perfect storm of severe cold fronts prior to our arrival. The strange weather continued, as it was unseasonably cool for most of the week we were at Chapleau Lodge, and we experienced heavy rain storms several nights.
We had two great bear sightings during our week at camp; and even had a small Moose run along side the roadway after we left the lodge and started our drive west to Wawa in the early morning hours. This was a Lodge that we will return to for another round of fishing, and can easily recommend it for either a family vacation, or for fishing friends that want quality accommodations along with quality fishing.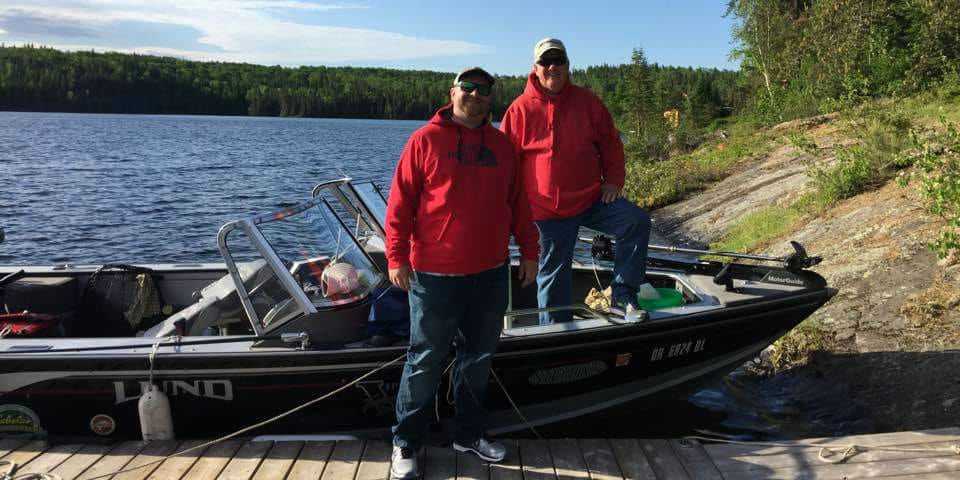 Recent Articles