Fishing for Northern Pike in Canada - Our Favorite Lures
Would you like to contact to check availability or learn more?
Fill out the info below and someone from will get back to you.
Email Sent
For those of us that love fishing in Canada (as well as the northern U.S. border states), there are a number of great sport fish to catch. Most of my friends and family love to catch Walleye and (of course) enjoy tasty fish fry's as well as catching nice sized Smallmouth Bass, Muskie, and Northern Pike.
While species of fish available vary on different lakes, it is rare to be fishing a lake in these areas that doesn't have a Northern Pike population. Some fishermen will complain about catching snakes (small Pike) that annoy them when fishing for Walleye or Pan Fish. It is true these small Pike can be a nuisance in these instances but it's worth it, because once you hook a big, heavy Northern Pike and all the fight it gives you, it may be all you'll seek in terms of a great fresh water sport fish. However, if it's the mighty Northern Pike you now seek, here's the rub; these upper 30-40+ inch Pike require a whole different strategy to fish than when they're tugging on your hook in those cold waters as small predators in their younger years.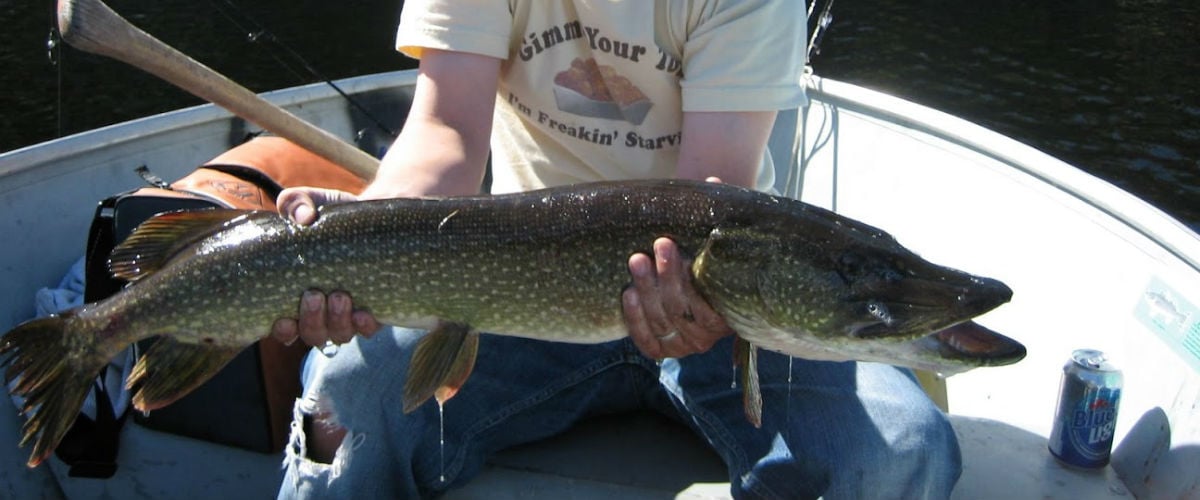 Spring Pike Fishing
In Springtime (especially the week or two after ice-out), the larger Pike are found at the mouth of rivers or streams leading into a lake and cruise shallow areas looking for spawning bait fish to feed on. As the waters warm, they often drop to the first break-line and continue their hunt for prey there. One of my favorite baits in the early Spring for catching these large Pike is the original 5 inch "Rapala Original Floater Minnow" (size 11 which is 4 3/8" or size 13 which is 5 1/4") in either Silver, Shiner or Perch color, depending on the lake's bait schools.
There is vital info to know when fishing this lure. If it is cast and a steady retrieve is used, or, it is trolled, it will swim down 4-6 feet. You'll need to make sure it is just under the water at 6-12 inches during retreival. The key to achieve this depth is to reel it back very slowly, that way it won't achieve its maximum depth. A thin multi-strand titanium 6 inch leader should be used, as often these large Pike will take your entire bait when they strike and their teeth can cut through most fishing line with ease. Often the water depth of 1-5 feet that is being fished has some emerging weed growth, and if you bring in this bait at a typical and steady retrieve, it will dig into weeds or the bottom. A heavy spinning rod and larger reel should be used to allow for long casts and ability to bring in large fish when they bite. Lastly, I like a braided line (12lb test) that allows for a firm hook set. My favorite braid is Power-Pro.
My next preferred Northern Pike lure in the Springtime is a 5-6 inch "swimbait". While these are now produced by a number of companies, my favorite is the 5 inch "Storm Swim Wild Eye Bait" (in Shad/Perch colors depending, again, on forage bait in the lake). A very slow retrieve that is just fast enough to engage the tail action is what is needed. You will want to swim this bait about a foot under the water surface as well. This is another bait that is often taken whole by a larger Pike.
Summer Pike Fishing
Once the lake waters warm and the calendar turns to the summer months, large trophy pike go deep on weed lines and deep on rocky points. You'll want to target rocky points when they hold forage, often when wind has been blowing into those points for several days.
My favorite summer presentations for large Pike is one that has also caught me some large Bass (over 5lbs) in northern waters that have large weed beds next to deep water 30+ feet. Using a large heavy "jig and pork" technique, I will position my boat on the deep outside edge of the weed bed using my front electric motor and graph. Then I cast directly ahead of my boat parallel to the weed bed, out about 6 - 10' feet and cast as far forward as I can. I count down the jig/pig to about 4' off the bottom of the weed bed or lake bottom, and then slowly swim or "yo-yo" the jig back to my boat. This is not a "numbers" bait, though it will catch you large Pike and Bass. The hits are more like "ticks" or pressure on your line, so I suggest a heavier braid. I don't use leader so as to get more action on the bait. With this risk comes nice reward, though occasionally one will be bitten off. I like a large pork or rubber trailer on the jig, as you want to throw a larger bait to entice large Pike.
My final summer Pike lure is a 2" Pro Bass Strata Spoon (or Hopkins Spoon) with a bucktail. I use the same presentation by fishing deep weedline edges as with a "jig and pig", casting where the weedline edge ends and meets the bottom of the lake.
Targetting Large Pike Along the Weedline
Oftentimes in the warm water summer months large Pike are either laying at the bottom of the weedline or cruising the lake bottom next to the deep weed edge line. I cast out the spoon parallel and will count it down, and then swim it back to the boat on a slow retrieve. This lure requires a leader with a quality snap-swivel so your line doesn't get twisted. I like the spoon in a silver finish with a red bucktail as my first choice, and a "Fire Tiger" finish without a bucktail as my second choice.
While I have caught my share of quality Pike with these lures, I also catch other species of fish that give me good action through out the fishing day, including the Bass mentioned as well as larger Perch, Walleye, and Muskie.
If you see me out off a large weed bed in the summer, you can believe you'll see me fishing with either a large jig and pig combo, or one of these spoons. Give them a try and you'll be a believer as well.
Recent Articles