Fishing Canada for Trophy Walleye
Would you like to contact to check availability or learn more?
Fill out the info below and someone from will get back to you.
Email Sent
While walleye fishermen truly enjoy a tasty shore lunch or end of the day fish fry back at the cabin with plenty of eating size walleye fillets cooking up golden brown; a lot of their time fishing is spent out on the water in search of the bigger Trophy Walleyes.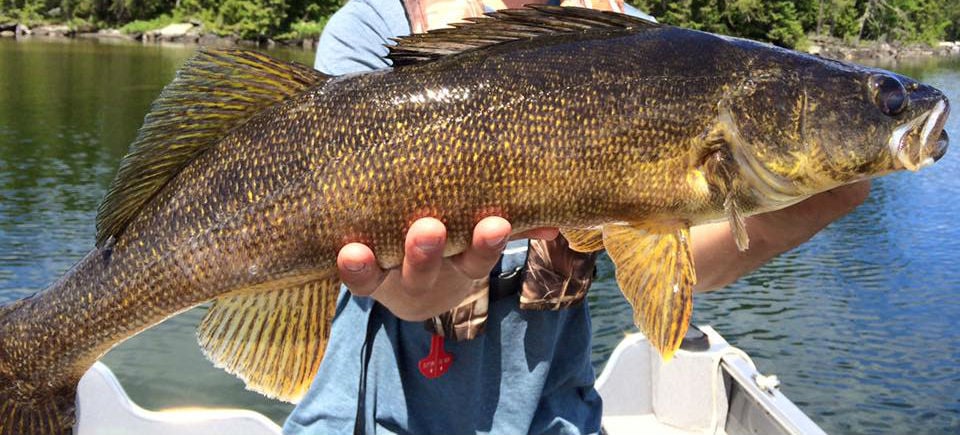 Frequently when plans are being made for trips up north of the Canadian border with family and friends, often the first question voiced is "where are we going this year"? Then you will hear comments like "is that a good lake for trophy walleyes" or is it "just a numbers lake for smaller walleyes"?
What qualifies as a Trophy Walleye in Canada?
Then the conversations turn to websites to look at the camp's guest's fish photos (hopefully most of which were CPR'd - Catch/Photo/Release). Looking at numerous fish photos, the conversations turn to what weight and size truly represents a Canadian Trophy Walleye, and were those fish being held out at arm's length in those photos? (never did that myself, cough, cough).
Having fished across Ontario from its eastern border including the French River and various areas of Georgian Bay (including the Georgian Bay North Channel); to many of the Central Ontario lakes surrounding Chapleau, as well as the Mississauga Valley river system to western Ontario, most fishermen label a trophy walleye at 10 lbs or over. Now that is not to say that a heavy 7 lb or 8 lb walleye isn't a beautiful fish (as it is) though if it does not break the 10 lb mark then it is not truly a Trophy fish. Some fishermen don't use a weight scale and prefer to measure their walleyes by length, and the general conciseness is that a walleye of 30" or more is a true trophy.
When and Where to Target Trophy Walleye
It's well known that many fishermen take time to fish the Spring Openers in the far north; as large female walleyes are spawning in rivers and streams, or shallow rocky and sandy bays. These specific areas are then fished religiously with larger baits and often produce trophy walleyes. I would note in most all cases true Sportsmen CPR those trophy fish, and only keep the smaller walleyes for their fish fry or dinner. They understand that these trophies are best left to grow even larger and help with that lake's reproduction.
Fishing for large female walleyes is much different than fishing for your "eater" shore lunch fillets. One approach taken by many fishermen is using larger size lures (up sizing their crank baits or increasing the size of their live bait - in the fall, many fishermen look for the largest Red Tail chubs they can find at the local bait store, as well as purchasing the largest leaches available earlier in the year). Though more than one particular fishing presentation, "Trophy Hunter" walleye fishermen will first dial in certain bodies of water that have been known to produce trophy sized walleyes over the years, and then target these lakes and rivers at peak times to give themselves the best chance to land a trophy walleye.
While there are a number of trophy walleye lakes (as defined earlier in this article) several that I have fished include Lady Evelyn Lake (which is a boat-in lake with no access roads - the lake is entirely surrounded by the Canadian Bush). Several excellent camps on Lady Evelyn are Island 10 Fishing Retreat as well as Garden Island Lodge. On the western side of Ontario there is Lac Seul which is a walleye factory. The Silver Wheel Lodge is an excellent Lodge on Lac Seul as well as the Timberlane Lodge. Another excellent camp in NW Ontario for trophy walleye is Hawk Lake Lodge, which is located on Hawk Lake.
The Importance of Catch & Release Fishing
"We switched to 100% catch and release of all species seven years ago," says Ted Putman, Owner of Hawk Lake Lodge. "We recognized our fishery had a limited amount of walleye for many reasons, one of which was poor spawning grounds as well as a thriving smallmouth and lake trout population," Ted continued, "We also saw first-hand that the fishery did support some incredibly large fish (35+ inch walleye) and knew that even with a short growing season it could in fact generate some real monsters (which can be attributed to the high concentration of cisco and whitefish for forage). With that in mind we made a conscience effort to release all fish to see if by doing so would increase the numbers as well as size of the fish".
Over the last decade or so, more progressive camp and lodge owners like Ted at Hawk Lake Lodge have instituted their own camp rules for "CPR". In some cases, those rules are more stringent than a particular Province's fishing rules and regulations. One must applaud these camp owners for protecting their lake's trophy fishery, while allowing these trophy fish to be caught and released for the enjoyment of other anglers in the future.
Ted from Hawk Lake Lodge notes "Some studies have shown a 16% mortality rate of catch and release under certain conditions, so keeping any fish could put intense pressure on such a small population." Hawk Lake Lodge is a great example of the benefits to future anglers as Ted continued "…each year we have recorded more and more numbers of walleye caught and even more exciting is that the numbers of true trophy walleye has quadrupled for our fishermen. A 28 inch fish is common during prime times and we don't bat an eye unless a fish is 31+ inches. Many fishermen have never seen a fish of this size and it brings us great joy to know that not only is this a fish of a lifetime but someone else has the potential to catch it all over again."
Several of the northern camps I fish have a mandatory release of larger walleyes (as well as Musky and Pike); as those fish can be photographed and quickly measured, and then released. If a mount is desired for one's home or office, a graphite replica is easily ordered and they last much longer that a "fish skin" mount. Camp owners have different programs that reward the "CPR" of trophy fish, with rewards ranging from a lapel pin of the particular species (i.e. Walleye, SM Bass, Pike or Musky); or they have a White Board in the Lodge reflecting the largest catches of the different weeks of the season. Those fortunate fishermen that catch the largest fish of that season (Walleye, SM Bass, Pike or Musky) are awarded a free return week at the camp the following year. Other camps have mugs or hats that are awarded for the release of trophy fish, or entries into a drawing for a free return trip to the camp.
You can't catch 'em if they ain't there...
It's truly unfortunately, but time after time fishing waters that are easily accessible to the general public have been "fished down" and any trophy fish in those lakes and rivers are caught and removed. The more remote northern lakes and rivers away from populated areas, that require more of an effort in traveling to fish, often reward those diligent fishermen with good to excellent fishing results.
Most folks growing up have heard the old adage "you can't catch 'em if they ain't there". Well, that certainly holds true for trophy size walleye fish. Hence, when one is hunting trophy walleyes you need to go to those waters that have the right growing seasons, food sources and conditions to produce large fish. If you do your proper homework and are then willing to invest some money, travel time and put in your time on the water with the right fishing presentations, you too may be rewarded with a true trophy walleye or two in your hands. Don't forget to smile when you have your CPR photo taken, and wear your camp's hat or lapel pin with pride. Catching a true trophy walleye is indeed a very happy moment in a fisherman's life, that in most all cases is truly earned.
Recent Articles