Lake Trout (or, "Lakers") are also known as mackinaw, lake char, and grey trout. The lake trout is sought after as both a game fish and as a fish caught for consumption. The largest lake trout caught on a rod and reel was caught on Great Bear Lake in 1995 and weighed 72 lbs (33 kg) with a length of 59 in (150 cm). While the average lake trout is much smaller than that record, it is still a good 20-36" and 15-40 lbs. Many native lake trout populations had/have been severely damaged through the combined effects of hatchery stocking (planting) and over harvesting. However, populations have shown a healthy rebound in many major fisheries/fishing lakes thanks to conservation efforts, proper licensing, and harvest regulations.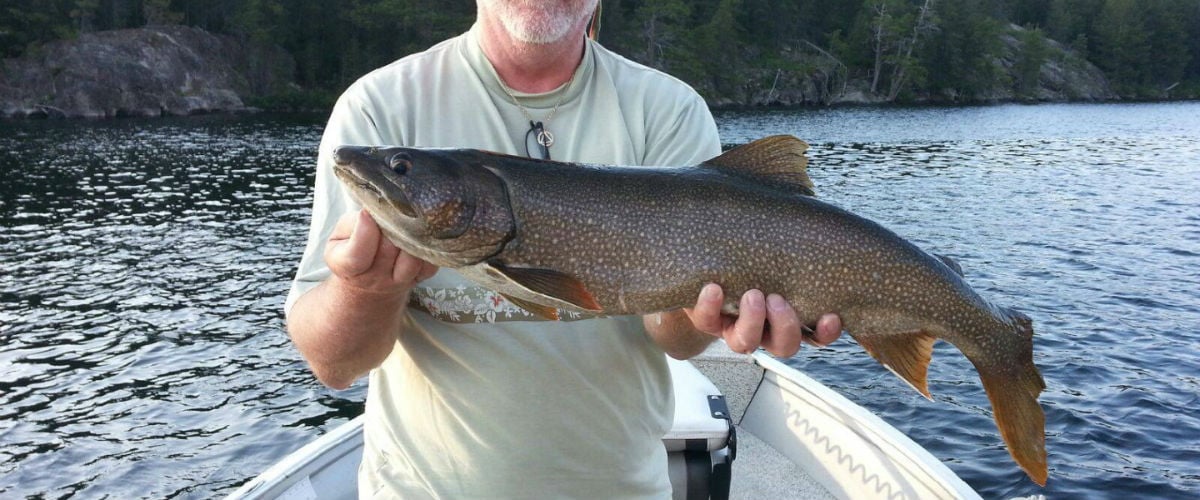 Where to Find Lake Trout
Lake Trout are mainly found in lakes in northern North America, though they are also found in South America, Asia, and Europe. This fish species evolved with the ebb and flow of glacial periods, living in the lakes formed from the waters that melted from the glaciers at the glacial boundary. Lakers loved these massive, cold, changing waters and thrived in them. They would follow the glaciers south during every advance and north when it warmed - with some staying behind in lakes formed during the glacial retreats (i.e. the Finger Lakes). The lake trout settled in these lakes with deeper, colder waters and that's where you'll find them today...the deeper and colder parts of the lake. Once you are on the water, the most important part of the finding this trout species is to relax, sit back, and watch the shorelines. You are in the right spot for lake trout fishing when you see pine covered islands and steep rock walls.
Understanding Lake Trout Behavior
As noted above, lake trout like structure. Lakers will suspend near structure as they pursue baitfish and this is most often structure found on, or near, the lake bottom. When fishing for lakers, look for the same things would when fishing for brook (speckled) trout in streams but on a larger scale (underwater outcroppings, points, cutouts, flats, drop-offs). If the same structure holds baitfish, it will also hold lake trout. They prefer different kinds of structure depending on the time of year, so putting your time to find the right structure is important when you are fishing for lake trout.
How to Catch Lake Trout
Lake Trout like small lures more than big ones. Use a light line (4lb-6lb test) as it has decreased friction with the water and ensures your line goes down quick without having lots of line out. Tie two pieces of line, approximately 3-feet long, to a three-way swivel. Use a 1 or 2-oz. weight on one line and a smaller lure on the other (i.e. a silver spoon, #0-#1 Mepps, or similar spinner bait). These fish are often down 40-60+ feet and when hooked (especially the big ones), will make a short run and just thump and twist and turn. Bring them up slowly to ensure that they decompress and release them back into the water quickly if you're not keeping them for consumption. Be sure to check to local/provincial websites for the specific conservation guidelines and regulations.
Downrigging & Trolling for Lake Trout
Top Fishing Trips for Lake Trout
---