Smallmouth Bass are a freshwater fish that is very popular species to target while fishing in Canada. Smallmouth bass prefer the cooler waters of Canada and are more prevalent in Canada than largemouth bass. In addition to their prevalence, smallmouth bass are very popular amongst anglers due to their incredible fight and acrobatics when caught – especially on the top of the water. This typically makes them an exciting fish to hook and a challenge to land in the boat. They are also an easy fish to target in that they respond to a variety of tackle including spinner baits, crank baits, live bait, and artificial worms.
Smallmouth can be caught up to 25", though most anglers will see them more commonly in the 11"-20" range and around 1-5 lbs. Anglers will notice that the size and shape of smallmouth bass varies greatly based on where it is caught. If caught in a river, the smallmouth bass takes on a thinner, more tubular, shape and its color is close to a dark brown. However, smallmouth bass caught in a lake will be a lighter yellow-brown color and appear more oval in shape. The diet of smallmouth bass mostly includes crayfish, insects, and other smaller fish.
Smallmouth Bass aren't considered as good of an eating fish as walleye but many anglers still enjoy eating smallmouth bass. As an informal rule, the colder the water they are caught in, the more firm and desirable the filets will be. Today, many fishermen practice catch-and-release fishing to improve fish populations and because of this Smallmouth Bass have thrived and are amongst the more sought after gaming fish for anglers to target.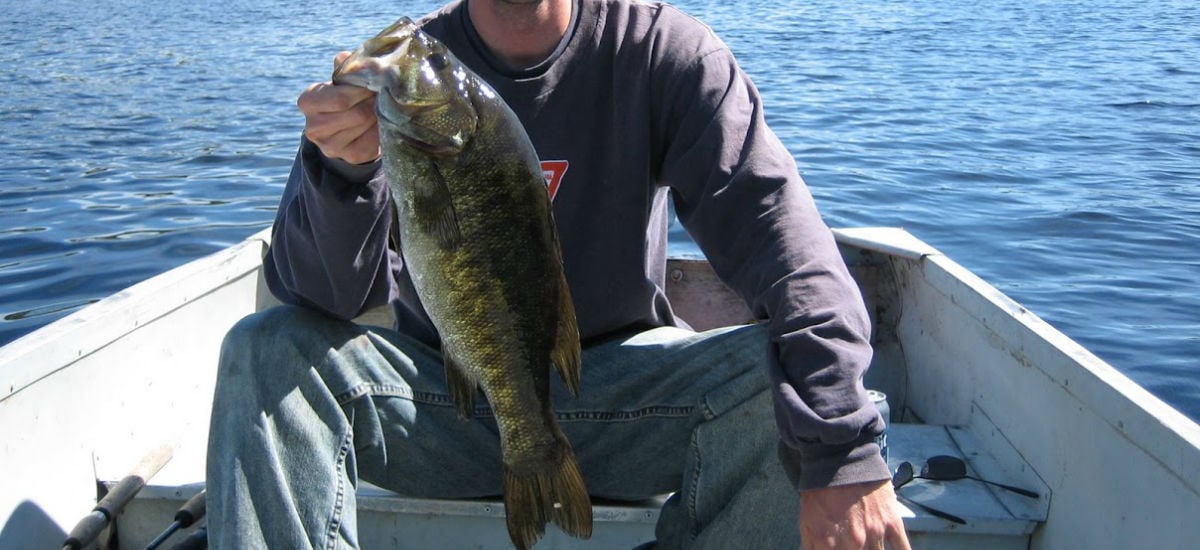 Where to Find Smallmouth Bass in Canada
While smallmouth bass like cold water they are mainly found in the waters of Ontario and Quebec . Most fishing camps in Ontario and Quebec will have smallmouth bass fishing available. In the other provinces they are found closer to the US border, but much further beyond that and it's just too cold for these fish. If you were to look at a map of Canada they aren't found too much further North than the Southern border of Alberta, Saskatchewan, and Manitoba in rivers, streams, and lakes.
Smallmouth Bass like structure and will reside near it whether in a river or a lake. Fallen trees, stumps, shoals and rocky structure along the shoreline are great places to fish for smallmouth bass. They are a moderately aggressive fish, meaning they may take some convincing to strike, but they will strike fast and hard once you have enticed them to do so. Since they search for food in deep water and top water alike, smallmouth bass can be targeted in a variety of depths and will both dive deep and rise fast to the surface (both in a matter of moments) when hooked and won't come out of the water without repeating this pattern a few times, which makes them a fun fish to catch and is why anglers seek these fish out.
Lures for Smallmouth Bass Fishing
Smallmouth Bass are consistently caught on a wide range of natural and artificial baits or lures, including crankbaits, hair jigs, plastic jerkbaits, artificial worms, spinnerbaits, and all types of soft plastic lures, including curly tail grubs or tubes with lead head jigs. Spinning reels or floating top water popper fly patterns and buzz baits are also popular for Smallmouth Bass fishing. For river fishing, spinning tackle or fly tackle has been the most successful for pulling in Smallmouth Bass in North America for years. Be sure to check to local/provincial websites for the specific conservation guidelines and regulations.
Additional Info
Top Fishing Trips for Smallmouth Bass
---