Walleye, also known as Yellow Pike or Pickerel, are a freshwater fish native to most of Canada as well as the Northern parts of the United States. Northern walleye are one of the most popular sport fishing species in Canada because of the challenge in catching them and, more importantly, for their firm texture and light color , which makes them a delicious fish to consume.
Due to their popularity with anglers, the size of fish caught varies as walleye are generally protected with regulations on the amount one can keep, as well as a "slot size" (about 40-58 cm or 16-23 in) in which anglers are mandated to release them back into the water to allow spawning and to promote healthy and abundant fisheries. You will often hear smaller walleye in the 14"-19" range referred to as "eater sized walleye." Many anglers prefer to keep these smaller walleye and return the larger fish back to the lake. Be certain to at least get a picture with larger walleyes though…a Trophy Canadian Walleye is any walleye over 30 inches with the largest walleye ever caught in Canada topping out at 34 inches.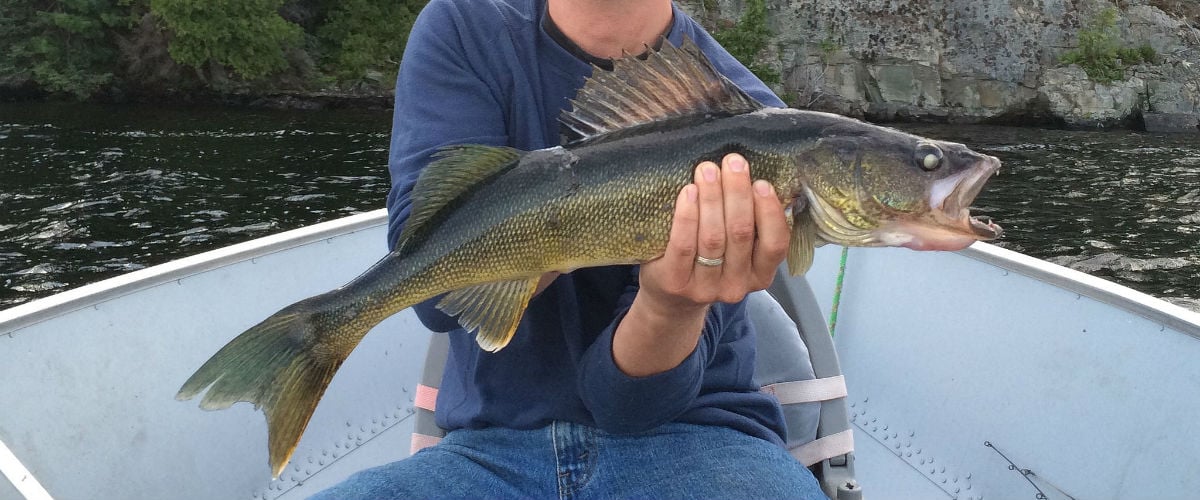 Where to Fish for Walleye in Canada
Fortunately for anglers, walleye can be found in most rivers and lakes throughout Canada. They can be caught from their spawn in the spring straight through to the end of the season. During the early season spawn the Walleye are usually very shallow and they migrate to deeper waters as the season moves on. While they are in many Canadian waters…the trick is in getting them interested in your presentation.
Understanding Walleye Behavior
Walleye have an amazing ability to see with little or no light and generally stay closer to the bottom of the water. They tend to feed most often at dawn and dusk, when skies are overcast, or when there is a choppy current on the water as this disrupts light waves and mimics low light conditions. Unlike Northern Pike, Walleye travel in schools and are more passive in their strike, so presentation of bait/lures is crucial with Walleye.
Tips for Canadian Walleye Fishing
Use of live bait in the form of minnows and night crawlers during the pre-dawn and dusk/post dusk hours is best. Lures mimicking the swimming action of small fish are also effective as walleye are predatory and will feed on smaller baitfish. The depth at which walleye are caught varies on the time of year and the layout of the lake in which they are fished. Springtime is the spawning period for walleye and when they are found in shallower waters (up to 10 feet) and closer to shore. Summer and the end of the spawn sees Walleye returning to deeper waters (if available) where live bait is most effective but the type of live bait used can vary in effectiveness depending on the day. Be sure to check to local/provincial websites for the specific conservation guidelines and regulations.
Favorite Way to Target Walleye
A personal favorite approach to target northern walleye is to troll with a floating gum drop jig. Try and be ready with a variety of floating jig sizes and colors, then use a walking sinker with about two feet behind it until you tie the jig on. In addition to varying the jig you are presenting, play around with the distance behind the sinker. Since walleye are often in schools, if you feel a hit or catch one, then work that area trolling through until you reach your limit (as if it's that easy).
Additional Info
Bottom Bouncing one of the most popular ways to fish for Walleye in Canada
Top Fishing Trips for Walleye
---