Would you like to contact to check availability or learn more?
Fill out the info below and someone from will get back to you.
Email Sent
Anderson's Lodge
34 Reviews
-
TripAdvisor® Traveler Rating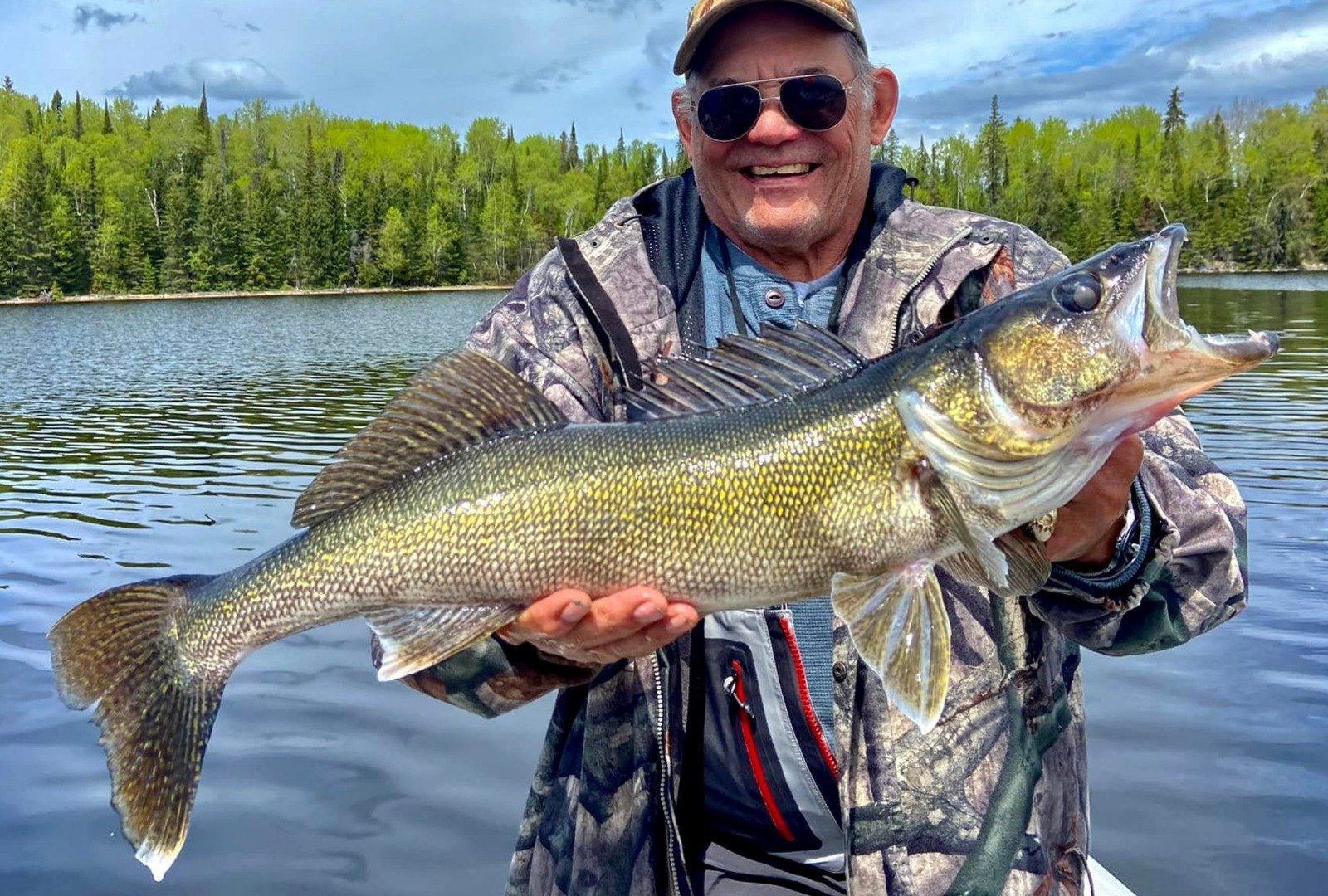 Select closest city to view driving distance:
Approximate Cost:

6 - 7 Days:

$3,000 to $4,000 Per Person

4 - 5 Days:

$2,000 to $3,000 Per Person

2 - 3 Days:

$1,500 to $2,000 Per Person

Access:

Drive In Camp

Fly In Camp
Anderson's Lodge has a long history of providing outstanding fishing for happy anglers. The lodge sits along the shores of Abram Lake and offers access to Walleye, Muskie, Lake Trout, and Northern Pike. The lodge sits near Sioux Lookout and is just over a four hour drive from Thunder Bay.
Lodging with Anderson's Lodge
The main lodge has 13 units that can hold up to 62 people total in a series of cabins that can accommodate two to seven people each. The cabins vary in layout, however the following features are in each: full decks, pine siding inside and out, cedar vaulted ceilings, ceiling fans, spacious and tastefully furnished living and sleeping areas, carpet and laminate floors, private bedrooms with double beds with quality Simmons mattress sets, four piece bathrooms with full piece tub and shower units; electric refrigerators and coffee makers. There is a separate building that houses the main office, tackle and gift shop, licensed lounge, air conditioned dining room and outdoor licensed patio with outdoor televisions so you can watch the big game!

They also have four outpost locations on the Northeast end of Lac Seul. These semi-remote locations also allow for fly-in or boat in packages and are designed for the adventurer who wants to fish on their own program while surrounded by pristine wilderness. These cabins also have tongue and groove pine, with screened in porches, double and single beds with Simmons mattress sets. Cabins are equipped with propane or electric refrigerators, a deep freezer stocked with ice, propane stoves with ovens and fully equipped kitchens. There are also gas grills for BBQ'ing and screened in fish houses with water and lights. Clean energy is provided by solar systems that provide lights that turn on with a switch and hot and cold running water so you can have a soothing hot shower at the end of the day. Cabins are equipped with wood stoves and plenty of chopped firewood as well.
Fishing with Anderson's Lodge
hey have the largest professional fishing guide staff in the area. The staff here is always focused on your needs and desires. With access to 8 plus area lakes, having a guide makes a huge difference for your fishing success. The guides are very patient at teaching new fishermen how to fish. Expect attentive guides who are willing to go the extra mile; baiting hooks, netting and releasing fish, teaching new fishing techniques and taking care of the kids and anyone else that needs it so you can focus on your own fishing. They are also some of the finest shoreline chefs around, cooking up your morning's catch lakeside and providing a fantastic mouth watering shorelunch experience.

As mentioned above, guests have access to Walleye, Northern Pike, Smallmouth Bass, Lake Trout and Muskie. The Walleye average 15-28 inches with good opportunities to battle Walleye up to 30 inches or more. If you are interested in trophy Walleye, Lac Seul is your best bet! They also target Walleye on Minnitaki, Abram and Pelican lakes.

For Northern Pike, expect fish in the 25-38 inch range with opportunities at trophies up to 45+ inches. Lac Seul, Minnitaki, Abram, Little Vermilion, Big Vermilion and Pelican Lakes all have trophy Pike swimming in their waters.

For Smallmouth Bass, expect fish in the 14-19 inch range with opportunities at trophies over 20+ inches. These feisty fish are found in every lake that they have access to and the season is open all year long! This means you get to target trophy Smallies in the spring when they are on 'the beds'.

For Lake Trout, expect fish in the 16-28 inch range with opportunities at trophies over 30+ inches and 30 plus pounds! Minnitaki is the trophy Lake Trout lake in the area, for the patient fisherman, just a quick boat ride from the main lodge. Don't expect all day action on Minnitaki, as it is a true trophy fishery but when you tap into one, hold on because it's probably huge! Big Vermilion is the best lake in the area of hot Lake Trout action and they have a private boat stash at that lake. Expect numbers of fish on Big Vermilion up to 30+ inches!

For Muskie, 38 inches is the average, with plenty of opportunities to target fish in the 50 plus inch range. The Little Vermilion chain of lakes and Big Vermilion both hold good populations of Muskies with chances at 44"+ fish. For trophy Muskie fishing, the best option is Lac Seul where giant 55" plus fish are caught and released each season.
Featured Video of Anderson's Lodge
---
Popular Alaska Fishing Destinations
TripAdvisor® Traveler Rating
TripAdvisor® Traveler Reviews
You may also be interested in