Beauchene Wilderness Lodge
Would you like to contact to check availability or learn more?
Fill out the info below and someone from will get back to you.
Email Sent
Beauchene Wilderness Lodge
10 Reviews
-
TripAdvisor® Traveler Rating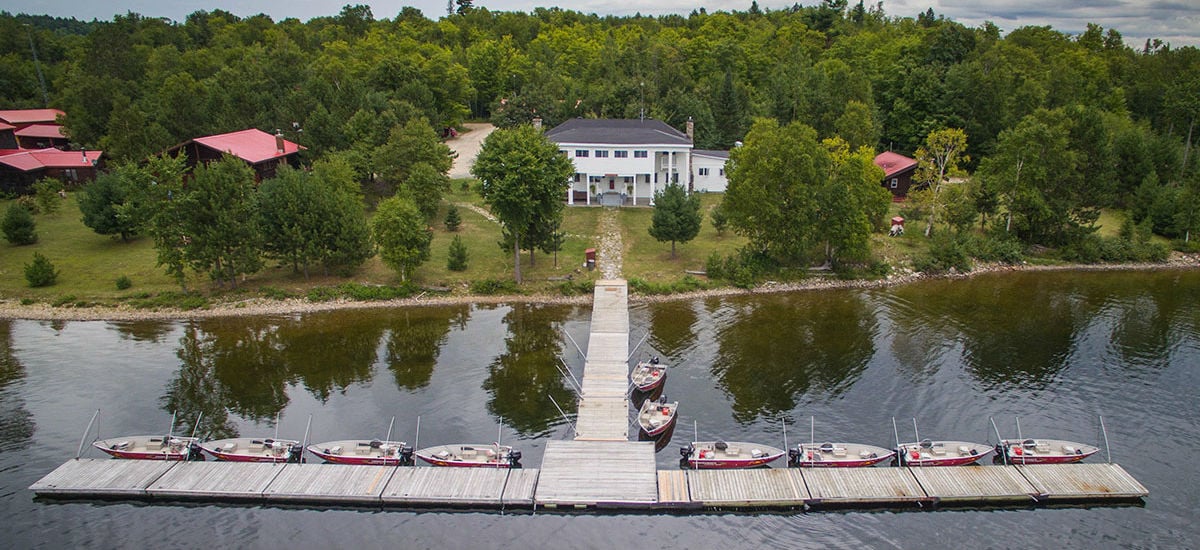 Select closest city to view driving distance:
Approximate Cost:

6 - 7 Days:

$1,500 to $2,000 Per Person

4 - 5 Days:

$1,000 to $1,500 Per Person

2 - 3 Days:

$750 to $1,000 Per Person

Access:

Drive In Camp
Beauchene Wilderness Lodge sits amid the high hills of Quebec and near the border of Ontario. This is the La Reserve Beauchene and home to some 3-dozen lakes and the Ottawa River. There are 50,000 acres of fishable waters and they are under a conservation program. That means big fish and lots of them.

You can drive to the lodge. It is 4.5 hours from Toronto or 6.5 hours from Montreal. The lodge is east of Thorne and off of Highway 63.
The Lodge and Out Cabins
The lodge is a series of beautiful chalets and small homes that they refer to as luxury bird chalets. They are beautiful and worthy of a 5-star rating. Each has bedrooms, large living space, comfortable sitting areas. There are fully-equipped kitchens and out the backdoor is a propane BBQ.

The out cabins are spread around at the different lakes. Each is well made and beautifully designed. These are more along the lines of small houses and cottages than cabins. Most have cold water only, indoor plumbing and most have Sun Showers so that you have some hot/warm water. A few of the cabins have outdoor plumbing. What you should expect from the out cabins is a clean and comfortable environment where you can enjoy your downtime when not fishing.
Fishing with Beauchene Wilderness Lodge
There more than 30 lakes available on which to fish or to stay. The reserve has created a fishing haven that is full of wild fish and Trophies. This is a catch-and-release fishing lodge and that means ample opportunities to battle Big Trophy Fish often.

Each lake offers something different and you may encounter some species of fish in one lake but not in others. The Lodge's site offers an easy to use sorting list where you can see all the lakes that have a specific type of fish or that are accessible in certain ways.

Expect well-maintained boats that are comfortable, safe, and designed for fishermen.
Featured Video of Beauchene Wilderness Lodge
---
Popular Alaska Fishing Destinations
TripAdvisor® Traveler Rating
TripAdvisor® Traveler Reviews
You may also be interested in