Would you like to contact to check availability or learn more?
Fill out the info below and someone from will get back to you.
Email Sent
Brennan Harbour Resort
21 Reviews
-
TripAdvisor® Traveler Rating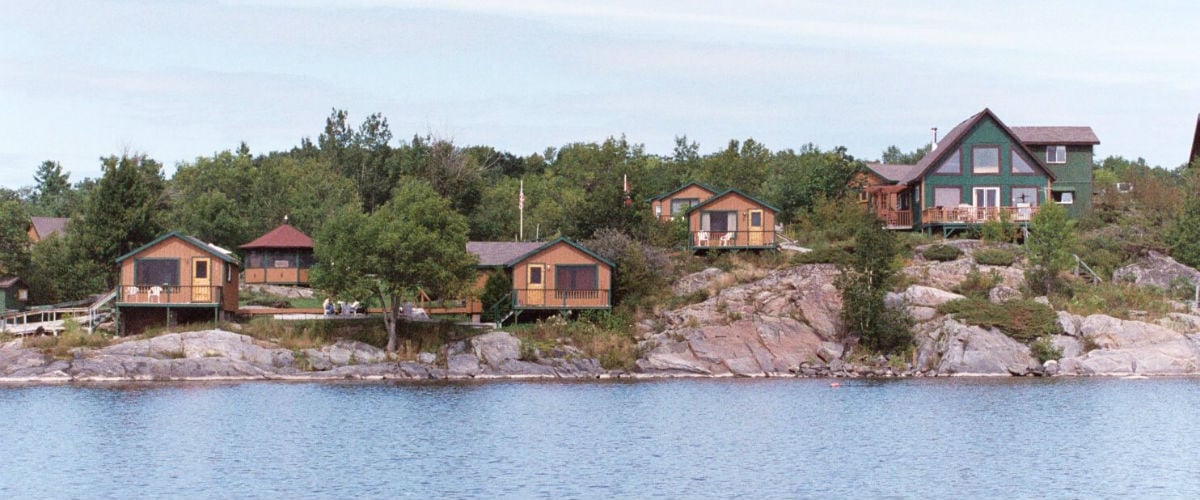 Select closest city to view driving distance:
Approximate Cost:

6 - 7 Days:

$500 to $750 Per Person

Access:

Drive In Camp
The first things you'll notice about Brennan Harbor Resort are the views. Situated on the Bushwell Bay shores adjacent the Spanish River and Lake Huron's Whalesback Channel, each cabin has a large bay window and porch with a marvelous view of the water amplified by the 30+foot rock facades provided by Bushwell's rocky shorelines.
Atmosphere
Many fishing camps in Ontario provide privacy, relaxation, and good fishing as does Brennan Harbor Resort. However, what many camps can or do not provide is a true resort atmosphere and that is where Brennan Harbor excels. Brennan Harbor provides a central screened-in gazebo equipped with a bbq and a fish fryer and is located next to the resort's campfire ring. This set up breeds community and camaraderie amongst the guests and adds an element of fun, competition, and high spirits to the whole idea of a fishing getaway.
Speaking of getaways, if you're the type that would rather leave the cooking to the pro's, then rest assured in the "American Plan' at Brennan Harbor Resort. A large and comfortable dining room is where you'll be served up your 3 square meals a day provided by the excellent cooks staffed at Brennan Harbor. There's also a 'Modified American Plan' where you can take care of breakfast and lunch and let your hosts serve up a hot dinner in the dining room as well. The staff understands if you've hit a hot spot and aren't in when the dinner bell rings, they'll keep your grub hot for you until the action dries up.

Fishing and Accommodations
Brennan Harbor boasts high quality fishing mainly for Northern Pike, Walleye, Smallmouth Bass and Jumbo Perch but large Sturgeon, Salmon, and Lake Trout are also a possibility thanks to the waters of Bushwell Bay directly connecting to Lake Huron. Boats are included in all packages but upgrades to larger and more equipped vessels are available for the serious anglers. Guides are available as well for an additional fee.
All the creature comforts and knotty pine you can handle is what you'll find in the cabins that range in occupancy from 2-7 people. Cabins are equipped with full kitchens and cookware, washrooms with showers, and pretty much all you need for a great fishing holiday. Satellite TV is available in the main lodge area as well as free WIFI.

Featured Video of Brennan Harbour Resort
---
Popular Alaska Fishing Destinations
TripAdvisor® Traveler Rating
TripAdvisor® Traveler Reviews
A great family trip
Reviewed By
Y319PAalexr
on August 15, 2023
I?ve never been to a fishing lodge or even driven a boat, but with boys 21 and 13 and a daughter in the middle my window for full family vacations is quickly closing so I did some research and found...
Best Fishing Trip...EVER!
Reviewed By
Marc2512
on May 29, 2022
Over the past several years, we've returned to Brennan Harbour Resort for various reasons; the fishing is good, the accommodations suitable, the boats and motors work like a charm. the owners and...
OVERRATED
Reviewed By
tomzL4394IN
on October 2, 2021
We booked a week from Aug 28-Sept 4/2021 Why they call it a resort is beyond me? Nothing to do but fish.No amenities ,no food,no nothing yet for what they charge for there cabins is beyond...
You may also be interested in