Would you like to contact to check availability or learn more?
Fill out the info below and someone from will get back to you.
Email Sent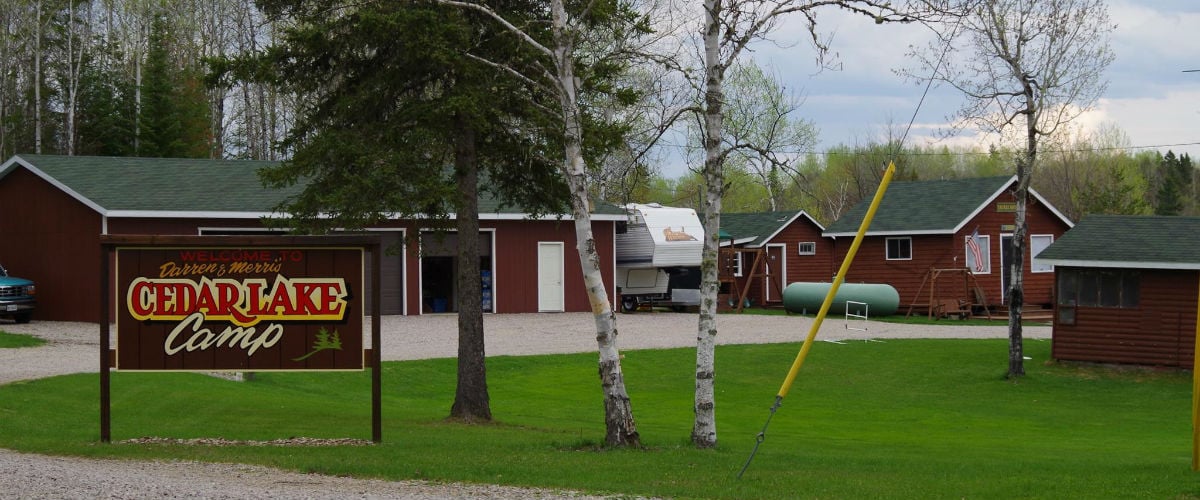 Select closest city to view driving distance:
Approximate Cost:

6 - 7 Days:

$500 to $750 Per Person

Access:

Drive In Camp
Cedar Lake Camp sits just north of Vermilion Bay and a short 3.25 hours from International Falls, Minnesota making this an easy to access fishing location for many fishermen. The camp consists of cabins, a general store, a tackle shop, a fish house and pier with boat slips. To call this place a camp is somewhat of a misnomer. Cedar Lake Camp is a well laid out destination if not a small hamlet.

Guests stay in one of the 11 modern cottages that offer housing for two-twelve guests each. These are fully equipped cottages with private three piece bath, running hot and cold water, and a fully equipped kitchen. Outside is a picnic table and BBQ. Beds are comfortable with linens provided by the camp. Each unit offers propane heat. Overall, expect a super clean cottage with all of the creature comforts of home.
Fishing with Cedar Lake Camp
Cedar Lake offers Walleye, Northern Pike, Muskie, Smallmouth Bass, and Perch. There are conservation efforts in place.

The limit on Walleye is four, and only one can be longer than 18 inches.
The limit on Northern Pike is four, and only one can be longer than 35.5 inches. All Northern Pike between 27.5 and 35.5 inches are catch-and-release only.
The limit on Muskie is one, and it must be longer than 54 inches.
Smallmouth Bass have a limit of four without size restrictions. During the spawning season, which is before July 1, the limit for smallmouth bass is two without size restrictions.
The limit for perch is 50, and there are no size restrictions.
What these conservation limits tell us is that the fishing here is good with many opportunities for trophy sized fish. It also means that one can reel in perch after perch without a problem. This is also trophy Muskie territory so if you have not fished for Muskie you should. These mammoth fish reach 60 plus inches and can weigh upwards of 70 pounds. They are hard to catch though so patience is a virtue when fishing for Muskie.

There are plenty of fishing opportunities here and a fisherman can spend all day catching Walleye and Smallmouth bass. Overall, restrictions included, it is hard to beat Cedar Lake Camp.

Featured Video of Cedar Lake Camp
---
Popular Alaska Fishing Destinations
You may also be interested in