Cobham River Lodge And Outposts
Would you like to contact to check availability or learn more?
Fill out the info below and someone from will get back to you.
Email Sent
Cobham River Lodge and Outposts
31 Reviews
-
TripAdvisor® Traveler Rating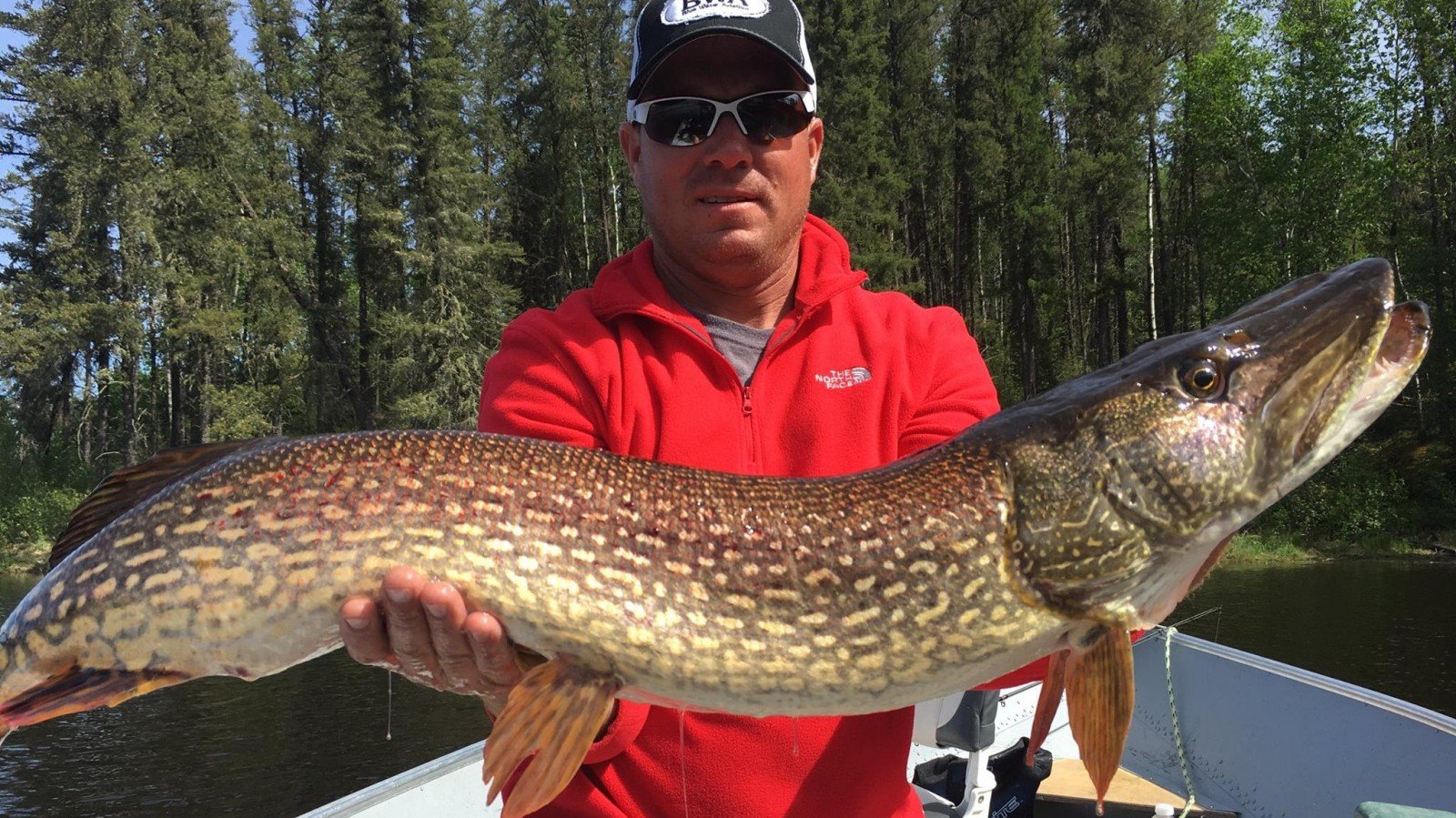 Select closest city to view driving distance:
Approximate Cost:

6 - 7 Days:

$2,000 to $3,000 Per Person

4 - 5 Days:

$2,000 to $3,000 Per Person

2 - 3 Days:

$1,500 to $2,000 Per Person

Access:

Fly In Camp
Cobham River Lodge is isolated in Manitoba's Canadian wilderness where you and your group have an unmatched fishing opportunity to fish where no other fisherman has fished before. The result, the fishing trip of a lifetime with pictures to prove it! From American Plan Packages to Deluxe Fly-In Outpost Packages, we can accommodate any groups needs.

Boasting an expansive Canadian shoreline, we've made our name in pike fishing, attracting anglers the around the globe. Add the numerous weed beds, creeks, and hundreds of miles of shoreline Cobham River Lodge is the ultimate Canadian fishing lodge for world class Northern Pike fishing.
Manitoba Fishing Adventures with Cobham River Lodge
Cobham River Lodge boasts of hundreds of miles of shoreline packed with Walleye, along with 76,000 acres of trophy Northern Pike havens. We are the original and only outfitter to have developed this system into a world class fishing resort. With 40+ years of providing guests a Manitoba Canada fly-in fishing trip of a lifetime, we still can offer you areas that have never been fished before.

Our guests enjoy Manitoba fishing for monster Northern Pike in one of the hundreds of cabbage weed filled beds that the Cobham River has to offer. What's amazing to see is that while you're searching these cabbage weed beds for monster Pike, it's not uncommon to hook into a trophy Walleye in the same weed bed.

Even though the Cobham River is known for the numerous trophy Northern Pike and Walleye that are caught and released each year, we still offer you other such as Perch and Whitefish that give you their own unique challenge to catch.
Here, The Manitoba Wilderness feels just like home
Cobham River Lodge is your authentically Canada fishing escape. Privately tucked away in the remote Canadian wilderness, our rustic lodge getaway is just a 1 hour flight out of Winnipeg, Manitoba. More than a getaway, this is home away from home in Canada's great outdoors, where remote living and outstanding service come together to create truly one-of-a-kind experiences beyond expectation. Our Manitoba lodge is stunningly unique.

Each morning guests enjoy specialty coffees and teas along with breakfast selections including classics and some more intriguing options from our culinary team. Each evening the dining room is transformed by fine-dining dinner service offering premium steaks, regional specialties, fresh seafood features, and locally sourced produce when available. We offer dishes exquisite enough to satisfy the most discerning palate, yet fulfilling enough to be considered good old fashioned comfort food.


Fly in Manitoba Outpost Fishing on a Private Lake
Our Canadian fly-in outpost on Hidden Lake offers you a trophy fishing experience in the secluded wilderness of Manitoba Canada on your very own private lake. Here you can chase trophy Northern Pike and trophy Walleye all week long without any interruptions and not another fishing boat on the lake other than your groups. You will feel "Hidden" from the rest of the world as you get to concentrate on the important stuff, relaxation and fishing.

This Canadian outpost's fishing can best be described with one word – action. It is common for two people fishing at Hidden Lake Outpost to catch and release over 100 fish a day, with the record being 223 Walleye and Northern Pike caught in a single day. Pictures of your Canada fishing adventure will surely include large stringers of Canadian Walleye. Trophy Northern Pike are also no stranger to the many cabbage weed filled bays and inlets reserved for Manitoba Canada's lakes and rivers.
Canada Outpost Fishing Trip Where Manitoba Solitude Awaits You
Hidden Lake provides the finest 4 Star fly-in fishing Canada has to offer. Your cabin is 24×41 feet with plenty of room for your group. Your cabin on Hidden Lake is the only cabin on a 6,400 acre lake, and your group is the only group on the lake. That insures your privacy and trophy fishing opportunities.

The cabin features a large, fully equipped kitchen which includes a full size, 4 burner gas cooktop with oven/broiler, a full size refrigerator/freezer, an 8 cu. ft. chest freezer, cookware, plates/bowls, cooking/eating utensils, drinking glasses/mugs, etc. For your outdoor cooking needs, there is a gas grill and a fish cooker.

The cabin is equipped with 110v AC lighting throughout the cabin and a gravity feed water system for your water needs. Attached to your spacious cabin is a 10×24 foot fully screened porch, and as a final touch we have installed satellite internet service. This gives you a sense of security with the ability to call for a plane in case of an emergency as well as keeping up with the happenings of family back home.
Featured Video of Cobham River Lodge and Outposts
---
Popular Alaska Fishing Destinations
TripAdvisor® Traveler Rating
TripAdvisor® Traveler Reviews
You may also be interested in