Would you like to contact to check availability or learn more?
Fill out the info below and someone from will get back to you.
Email Sent
Ellen Island Camp
41 Reviews
-
TripAdvisor® Traveler Rating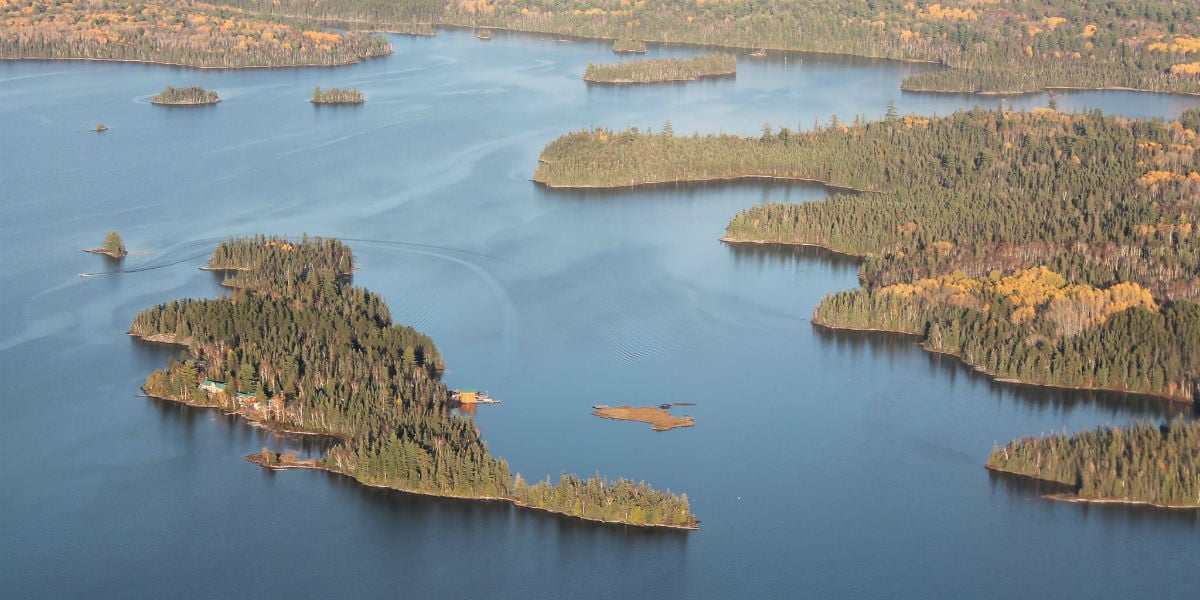 Select closest city to view driving distance:
Approximate Cost:

6 - 7 Days:

$750 to $1,000 Per Person

Access:

Boat In Camp
For those fishermen looking for a remote fishing lodge, Ellen Island Camp is the place to head. The island camp sits in the midst of Lady Evelyn Lake in the northern part of Ontario. Guests are housed in deluxe cottages on a private 17 acre island which is accessible by boat. Expect your stay to be comfortable. The cottages feature two bedrooms, a fully equipped kitchen, and private bath. In addition to the kitchen, your cabin comes with a propane BBQ grill, picnic table with a screened sunset room and deck. Heating is by a gas heater. Expect large cottages with ample space for family and friends. The lodge picks up guests at Mowat's Landing, and you are ferried to the Island via boat. It is an easy and effortless transition. A good piece of advice, these folks spoil you.
Fishing on Lady Evelyn Lake
The lake offers 450 miles of shoreline. Pair that with the fact that there is no road access, and you begin to see why the waters of Lady Evelyn Lake are unspoiled. What that means for fishermen is an amazing opportunity to enjoy fishing for trophy sized walleye, northern pike, and those feisty smallmouth bass. As a boon to fishermen, Angler Lake is just 40 minutes away. It is a ten minute boat ride, and a half hours hike, but this catch and release lake is home to trophy fish. We are talking 20 pound lake trout, 20 pound northern pike, and 5-12 pound walleye. Not bad for a 30 minute hike. It is not uncommon that fishermen battle 50-100 fish per day. The lake is just that full of smallmouth bass and good sized bass at that.

Your fishing package includes a 16 foot aluminum boat with floorboards for easy casting (fly or spinner) and a 20 HP Yamaha outboard motor. In addition, you get three cans of gas for the boat, bait, containers, nets, and all of the safety equipment that you need. Fishermen enjoy fishing from the padded swivel seats and to help preserve your trophy fish, the lodge provides you with ice.
Fishing for Trophy Fish
We talked a little bit about this above, but the trick to catching trophy fish is to know the fish. Walleye in summer are deep, and they cannot help but chase a bright colored spinner. Think Orange, Yellow and Red. The Northern Pike are predator fish who do most of their hunting staying in one spot and lurking. They love everything. So try smolt or minnow lure along the edge of a weedy pool. You can also try a dry mouse fly pattern over the top of a weedy run or pool. Those are two secrets for finding the big ones. It is up to you that they don't get away.
---
Popular Alaska Fishing Destinations
TripAdvisor® Traveler Rating
TripAdvisor® Traveler Reviews
You may also be interested in