Would you like to contact to check availability or learn more?
Fill out the info below and someone from will get back to you.
Email Sent
Hideaway Lodge
14 Reviews
-
TripAdvisor® Traveler Rating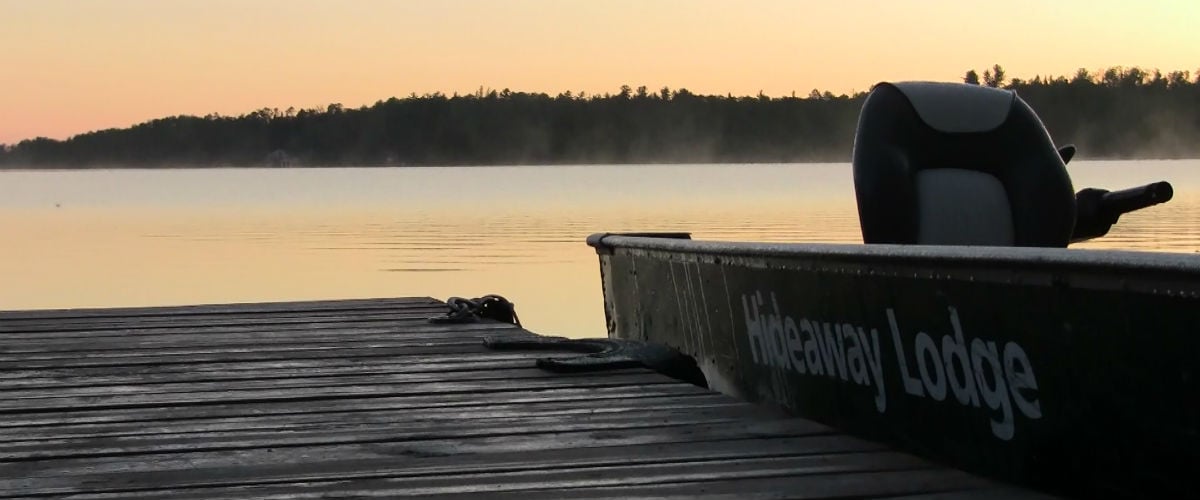 Select closest city to view driving distance:
Approximate Cost:

6 - 7 Days:

$750 to $1,000 Per Person

4 - 5 Days:

$500 to $750 Per Person

2 - 3 Days:

$250 to $500 Per Person

Access:

Drive In Camp
Hideaway Lodge sits on the edge of Clearwater Lake (Burditt Lake) in Northwestern Ontario near the town of Emo. Guests are housed in one of the five cabins and two outposts. The outposts sit 20 and 28 miles from the lodge while the cabins are all within a couple of hundred feet of the lodge.

The cabins vary in size and offer bedrooms, private three-piece bathrooms, full kitchens, sitting rooms, and bunk style beds. The cabins include linens, gas BBQ, microwave and patio chairs. This is an outstanding lodge for families, groups, and corporate events.
Fishing with Hideaway Lodge
Fishermen have the option of targeting Smallmouth Bass, Largemouth Bass, Perch, Walleye, Northern Pike, Muskie, and Lake Trout. The water system is part of the Clearwater-Pipestone Chain of Lakes. The Chain is comprised of 11 lakes and 70 miles of fishable waters.

The Lake system is narrow and deep. It offers a winding course that produce sheltered glens, bays, and rock outcrops. The huge lake system means plenty of unspoiled areas from which to fish. The lakes produce a lot of easy food for the fish, so the populations are large. Fishermen enjoy a variety of fish that range in size from legal to eat all the way up to trophy sized. Each of the 11 Lakes offers a unique fishing experience.
The Fish and the Trophies
The Trophy fish here are the Northern Pike and the Muskie. Both are amazing fish to target as their fight is quite powerful. Muskie are also known as the fish of 10,000 casts, and they are every bit of that name. Why fishermen spend so much time fishing for Muskies is simply because they are challenging, and they fight like a grizzly bear. Northern Pike are much easier to catch if you understand the fish. These are both lurking monsters that gulp their prey whole. You can find the Northern Pike in the weedy beds in the quieter bays. Look for a rocky point of land that juts out into the lake. Slow the boat, and carefully enter the bay. When you see the water weeds then you know you have found a Northern Pike lurking spot. If you love a sporting fight, try to lure one of these monsters to strike a fly instead of a lure. A dry fly in a rodent pattern is almost a sure bet. Just jig the fly over the water's surface and BOOM. If there is a Northern Pike in the weed bed, be pretty sure they will strike.

The Walleye, Smallmouth Bass, Largemouth Bass, and Perch are easy targets after trying for Muskie or Northern Pike. This is a rich fishing lake because there are so many outstanding fish here.
Featured Video of Hideaway Lodge
---
Popular Alaska Fishing Destinations
TripAdvisor® Traveler Rating
TripAdvisor® Traveler Reviews
The best Family Hunting and Fishing Lodge in Northwestern Ontario
Reviewed By
SchumacherJack
on November 23, 2020
I've been coming to this Lodge for almost a decade now and this past year definitely offered many challenges to Kathy and Doug, the owners. But when quality people are presented with a challenge...

2 Helpful Votes
Amazing Hospitality
Reviewed By
janntn
on August 19, 2019
I don't even fish, but a Canadian fishing trip was one of my husband's dreams, and with some trepidation, I agreed to go along. Hideaway Lodge was a perfect choice: the scenery is beautiful, our...
Great fishing vacation
Reviewed By
dcarder142
on June 29, 2019
My husband and I spent a week at Hideaway Lodge. Our hosts Doug and Cathy were wonderful. We are not experienced in walleye fishing although have lots of experience with other types of fishing...
You may also be interested in