Would you like to contact to check availability or learn more?
Fill out the info below and someone from will get back to you.
Email Sent
Huber's Lone Pine Lodge
7 Reviews
-
TripAdvisor® Traveler Rating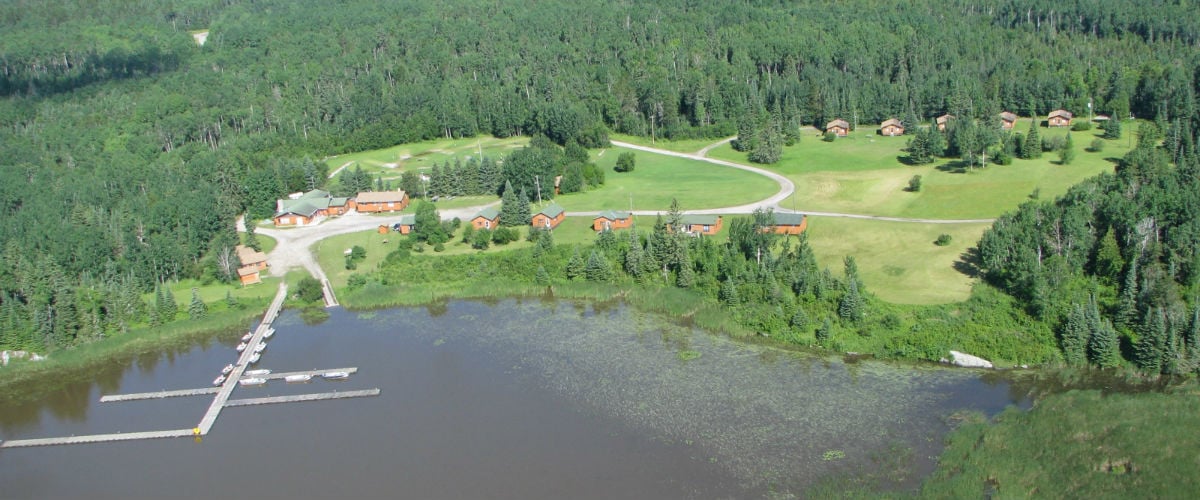 Select closest city to view driving distance:
Approximate Cost:

6 - 7 Days:

$500 to $750 Per Person

Access:

Drive In Camp
The Huber's Lone Pine Lodge sits about 17 miles east of the city of Dryden and along the channel of Dinorwic on the Wabigoon Lake. The lake offers good Walleye and outstanding Muskie fishing and was rated as the #28 spot for in the world for fishing by Fishing World Magazine. Other fishing species available include Northern Pike, Smallmouth Bass, Lake Trout, and Yellow Perch.
Lodging at the Huber's Lone Pine Lodge
The Huber's Lone Pine Lodge offers cabins, cottages, and even an RV park for those who bring their home with them. This is a five-star rated lodge and one of only three with that rating throughout Northwestern Ontario. As such, expect a lot and you won't be disappointed.

Cabins include handcrafted styling with sleeping accommodations from two-ten people. There is a full kitchen in each unit with full bathrooms a separate living room and dining room. The floor plans are two- three- or four-bedrooms. Outdoors is a gas BBQ. Amenities include Satellite TV, Internet and AC.
Fishing with the Huber's Lone Pine Lodge
If you are interested in fishing for Muskie, then this is a good place to take up that adventure. The lodge is well-known for Muskie and Walleye fishing. However, Muskie and Walleye are not the only big fish in the lake. This is also a good spot to fish for Northern Pike. While Muskie are remarkable fish to target, they are also difficult. They are known as the fish of 10,000 casts and that is not an exaggeration. Muskie can get big though,50-60 inches big. 60 inches is five-feet. The Ontario record for Muskie is 58 inches. Northern Pike, on the other hand, grow to about 50 inches depending on the lake and are much easier to entice into striking. That means that anglers have plenty of opportunities to battle big fish, especially if you come equipped to target multiple species. Keep in mind that both Muskie and Northern Pike have a mouth full of teeth and that means using a steel leader. A little planning can turn into a big reward on a lake that is so well known as a trophy lake. The Walleye fishing is good. Plenty of Walleye in the 1-3 pound range with big fish topping the ten-pound mark. Northern Pike usually show up under the 40-inch mark. The Smallmouth Bass and Lake Trout fishing are also excellent.

Overall, there are enough fish here for a full day of fishing excitement every day, all day.
---
Popular Alaska Fishing Destinations
TripAdvisor® Traveler Rating
TripAdvisor® Traveler Reviews
Your walleye safari headquarters
Reviewed By
Betasig
on September 7, 2023
Great staff, lake is excellent, nicely sized minnows, fair prices, boats run well w/ 50hp, clean cabins, good towels, clean bedding, has the kitchen supplies you need, new fish finders, and did I...
Huber's Lone Pine Lodge.
Reviewed By
69webster
on June 5, 2023
Great fishing as always. The cabin was clean and very functional. Adam was of great help in launching the boat and gas supply. We enjoyed the barbecue dinner in the lodge. It was a true Canadian...
Fishing ? Trip 2019
Reviewed By
Julie P
on June 29, 2019
My husband and I stayed at Huber Lone Pine Resort in Cabin 6 overlooking Lake Dinorwic for the week of June 22nd. The cabin had two bedrooms, a clean bathroom and kitchen and nice sized living room...
You may also be interested in