Would you like to contact to check availability or learn more?
Fill out the info below and someone from will get back to you.
Email Sent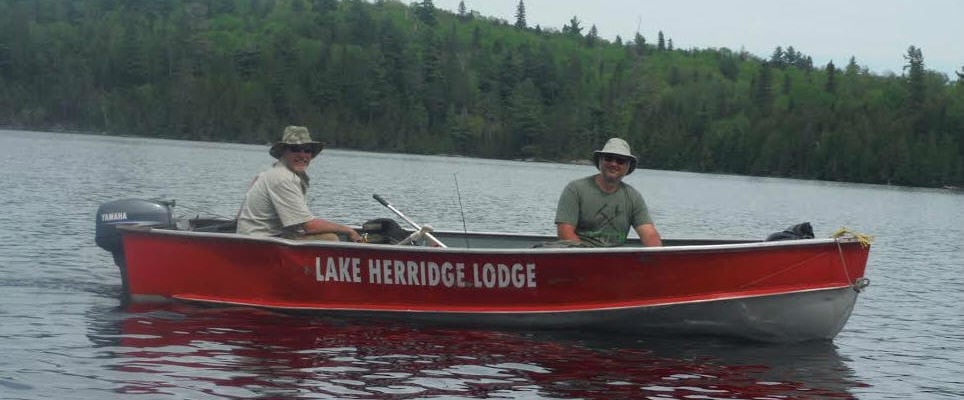 Select closest city to view driving distance:
Approximate Cost:

6 - 7 Days:

$750 to $1,000 Per Person

4 - 5 Days:

$500 to $750 Per Person

2 - 3 Days:

$250 to $500 Per Person

Access:

Drive In Camp
Lake Herridge Lodge is a year round lodge that offers fishing, hunting and just the tranquility of northern Ontario's Temagami forest. The lodge is a series of lake front cottages that are fully equipped and offer 1-4 bedroom units with private bathrooms. The communal areas of the lodge feature a swimming area, and for dry fun there is TV and games. There are propane BBQs available for those who want to grill the day's catch.
Fishing on Lake Herridge
The primary target fish is the walleye. The average Walleye weighs in between 2-4 pounds with trophies tipping the scales at 5-12 pounds. The lodge offers a catch and release lake with monster fish. Expect walleye to weigh in around seven pounds and smallmouth bass to tip the scales at six pounds. Average size Northern Pike weigh 3-8 pounds with monsters topping out around 20 pounds. The lake trout though are the real surprise. They typically average 3-6 pounds on the regular lake, but in the catch and release lake, they can hit the scale at 20 pounds.

For those of you who like the plush life. The lodge offers a deluxe fishing package. It does not get better than the deluxe package. On top of your cabin, your fishing trip comes with guided fishing, home cooked meals and lunches, a boat, bait and landing nets. Just bring your own fishing gear. The best part of the deluxe fishing package is the fact that the lodge helps you clean, package and freeze your catch. It is a great value for those who love to fish.
Fishing for Monsters On Herridge Lake
The Smallmouth Bass are feisty. You can find them all over the lake, but they like to hang out in the upper water level of the lake in the evening and morning. A top lure or fly can entice them to strike. The Northern Pike are aggressive monsters, even when small. A nice dry fly or top lure through a weedy section is all it takes to get these fish to strike. For lake trout think light tackle with a tri-swivel and four foot leaders for the weight and lure. Walleyes want the bright colored spinners in orange, red, and chartreuse.

Overall, expect an outstanding lodge with well-equipped cabins and all of the fun you can handle.
---
Popular Alaska Fishing Destinations
You may also be interested in