Would you like to contact to check availability or learn more?
Fill out the info below and someone from will get back to you.
Email Sent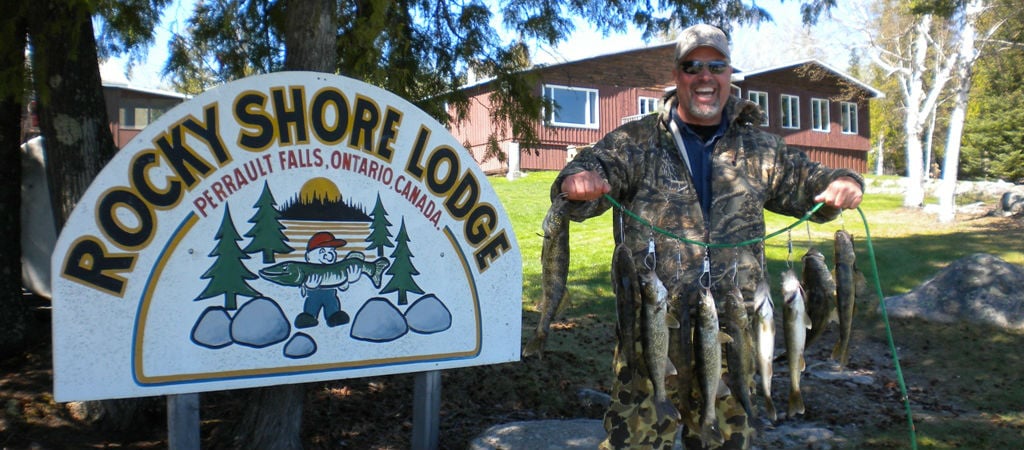 Select closest city to view driving distance:
Approximate Cost:

6 - 7 Days:

$500 to $750 Per Person

Access:

Drive In Camp
Rocky Shore Lodge sits along the shores of Perrault Lake and offers fishermen an outstanding opportunity to fish for trophy fish. The lodge is located about 3.5 hours from International Falls, Minnesota and half an hour from Vermilion Bay.

Guests are housed in a variety of housing types, including six cabins and two penthouse suites. The cabins offer 1-3 bedroom floor plans while the penthouse units offer 1 or 4 bedrooms. Cabins are arranged with an open floor plan with a large living area and open kitchen. Bathrooms include three-piece units. Guests appreciate the screened porch and sitting areas. The lodge features a beach house that is where all the fun onshore activities occur. This is a place where guests enjoy satellite TV, pool, and lounging.

Fishing with Rocky Shore Lodge
Typically, guests fish without guides here because the fishing is good but there are excellent guides available. If you want to focus on trophy fish, the guides offer the best option since the know the lake and the fish. There are also seven lakes in the surrounding area, and all of them offer unique fishing opportunities. The guides know these lakes too.

There is a voluntary conservation program for catch-and-release. That program has helped increase the population and size of fish. Here they target Walleye, Northern Pike, Muskie, Crappie, and Smallmouth Bass. There are plenty of big fish in the local waters. Expect Walleye in the 20-30-inch range and Northern Pike in the 40-50-inch range. The Muskie here here huge. 50 plus inch Muskie are the stuff of legends, and that is an opportunity here. The Smallmouth Bass range to 20 inches in length and offer some of the most exciting fishing here. If you are new to fishing for Northern Pike, tuck a few steel leaders into your tackle box.
Featured Video of Rocky Shore Lodge
---
Popular Alaska Fishing Destinations
You may also be interested in