Would you like to contact to check availability or learn more?
Fill out the info below and someone from will get back to you.
Email Sent
Slim's Cabins
4 Reviews
-
TripAdvisor® Traveler Rating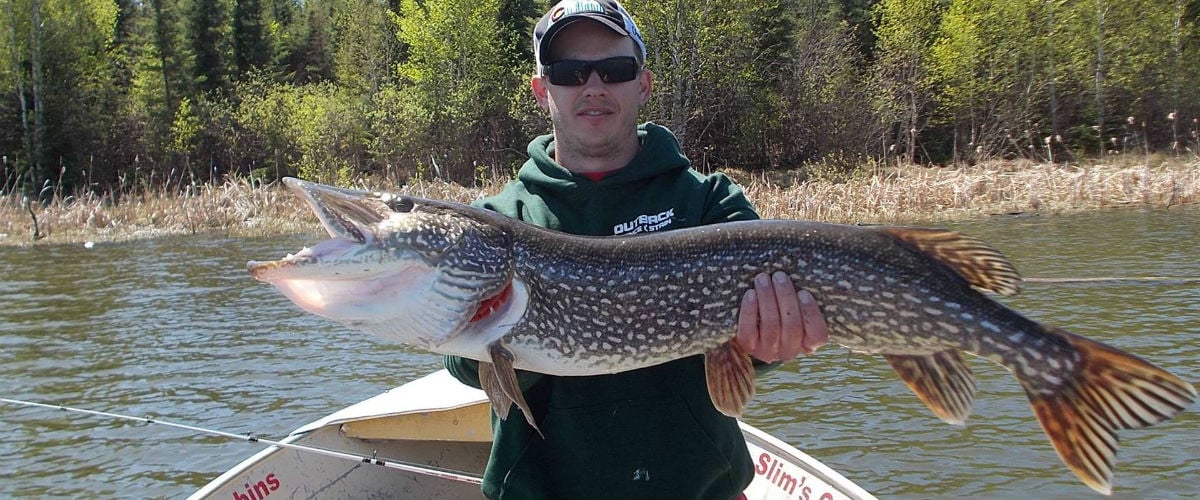 Select closest city to view driving distance:
Approximate Cost:

6 - 7 Days:

$1,000 to $1,500 Per Person

4 - 5 Days:

$750 to $1,000 Per Person

2 - 3 Days:

$500 to $750 Per Person

Access:

Drive In Camp

Fly In Camp
Slim's Cabins offers drive-in, boat-in, or fly-in options for its guests. Slim's Cabins sits along the banks of the beautiful Churchill River in Saskatchewan. Guests enjoy nearly 40-miles of prime-river for fishing. Expect Trophy Walleye and Northern Pike.

Getting to Slim's Cabins is fairly easy. Guests can fly into Flin Flom and the lodge can pick you up or you can rent a car for the last 110 miles of the trip. Fly yourself there and land in Sandy Bay (Hard runway), or Drive. It is about an 11 hour drive, but if you build some time into your trip there are a ton of lakes along the way.

The Main Camp holds nine cabins all with modern features, and are more like small homes then cabins. Expect indoor plumbing, hot showers, drinkable water, full kitchens with freezers, A BBQ, and 18-foot boats with 25 hp motors. There is even a small store for fishing supplies, ice, and yes, you can buy your fishing license right at the main camp.
The Outposts and Fishing
The local area is rich in lakes and that means outstanding fishing.

Pita Lake there is a beautiful fully modern cabin with room for up to 11 guests. Nice all around fishing for Northern Pike and Walleye.

Scotties Beach is a boat-in cabin with three bunk houses on Tommy Lake. This location holds up to 20 guests. Excellent place for Walleye and Big Northern Pike. Excellent place for Walleye and Big Northern Pike.

Cameron's Point is a boat-in cabin with room for upwards of 12 guests. Good open lake with a broken shoreline that is perfect for Walleye and Northern Pike.

Loon Lake is also a boat-in Cabin with room for up to eight guests. Look lakes is a broken shoreline with beautiful bays, islands, and plenty of opportunities to find those big Trophy Northern Pike and Walleye. This is a good location for Goldeye too. Hot spots include Britton Lake, the mouth of the Pagato River, and Duck Rapids.

Long Bay holds four guests and offers 40 plus miles of prime fishing. Perfect location for big Walleye, and Northern Pike. This is a rustic cabin that is perfect for those who enjoy nature and fishing.
Featured Video of Slim's Cabins
---
Popular Alaska Fishing Destinations
TripAdvisor® Traveler Rating
TripAdvisor® Traveler Reviews
Very nice place, but disappointment in new owners
Reviewed By
Greg S
on August 14, 2023
New owners ignore customers, we were fishing the year before covid made a deposit for next year, with covid the next two years were canceled. Meanwhile the business changed hands,Paul the new owner...
Treated Poorly by the New Owner Paul
Reviewed By
Todd A
on June 1, 2023
My dad and I along with several friends have been fishing at Hunting and Laurie Lakes for over 40 years. My dad, brother-in-law and nephew (along with 5 other friends) planned to go again this year...

2 Helpful Votes
Popped in and wow!
Reviewed By
bhakes
on September 10, 2017
I was working between pelican narrows and sandy bay and had to do a convoy from slims to the junction. This place is absolutely stunning! Wow! The scenery and lake is one of a kind and the people...
You may also be interested in