Would you like to contact to check availability or learn more?
Fill out the info below and someone from will get back to you.
Email Sent
Waterfalls Lodge
98 Reviews
-
TripAdvisor® Traveler Rating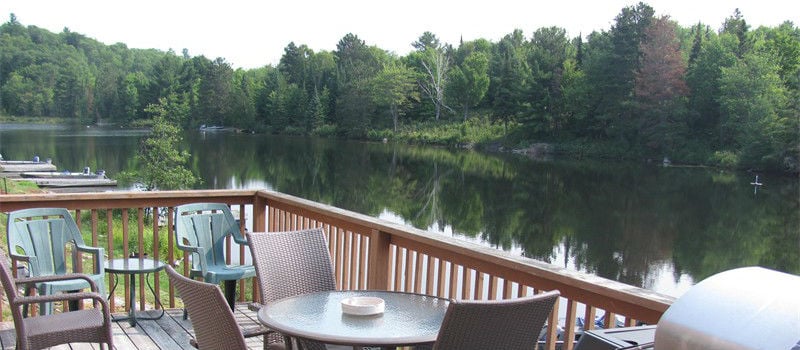 Select closest city to view driving distance:
Approximate Cost:

6 - 7 Days:

$500 to $750 Per Person

4 - 5 Days:

$500 to $750 Per Person

2 - 3 Days:

$250 to $500 Per Person

Access:

Drive In Camp
If you've fished some of the many camps/lodges in Ontario you've certainly had some great fishing! You've also likely had tough days on the water that was quickly wiped away by a great meal or a cold adult beverage in a rustic and cozy cabin. Waterfall's Lodge is the place you've been looking for that provides both and does so with class and style. Waterfalls lodge is fishing and hunting lodge that is known for excellence, quality and service. It's a place where you can experience the ease of a drive to resort while enjoying the seclusion of a fly in lodge.
Let's start with most important question, how's the fishing? It's spectacular! Bill Spicer, host of the New Fly Fisher Television Show says of his stay here, "The fishing was outstanding! I highly recommend Waterfalls Lodge!" Fish caught here include Smallmouth Bass, Walleye, Northern Pike, Lake Trout, Perch and Panfish. There are a series of 7 connected lakes all accessible form the boat docked right in front of your fully equipped cabin (all of which have a gorgeous view of Tube Lake). There are ATV trips available as well to remote back lakes where catch and release is encouraged and big bites are a plenty. Their fleet of boats has been recently updated to 20HP quiet running motors, flat bottoms, a large casting deck, and a live well. An electric foot controlled trolling motor is also available for an additional fee.

Accommodations and Dining
Waterfall's lodge has 16 cabins, some of which have been newly remodeled and fully equipped with rustic and comfortable furniture, full kitchen (appliances, cookware, etc) 24 hour electricity (no noisy generators) and WIFI that reaches most everywhere in the campground. All have a deck with seating and gas bbq if you're doing your own grilling.
If you're the outdoors type there's plenty of options for you as well including a nicely groomed sandy beach, hydro bikes, inflatable diving platform, kayaks, canoes, horseshoes, volleyball, and even a wood fired sauna and ALL of these amenities are included in every package.
When it comes to food, Waterfall's Lodge has a beautiful dining room equipped with a full service bar, satellite TV, pool table, and dart board. The food is provided via the American Plan with a full breakfast including healthy choices like oatmeal, fruit parfait, pancakes, french toast, waffles, or a bigger option in the "hungry person's breakfast" which consists of 3 eggs, bacon, sausage, ham, toast and home fries. Dinner ranges from comfort food like a classic roast beef dinner, house prepared burgers, steak, ribs, and of course…a fresh caught walleye dinner! A bagged lunch is provided most days as part of the American plan with the added choice/exception of course on Wednesdays when a fresh fried shore lunch is offered to all guests as well. The dining room and bar are also available to the public as well.

Flexibility and Price
There are many packages available ranging from cabin rentals only, to housekeeping packages, to all inclusive full fishing packages, to a preferred mix of the two with many dining options available to suit the needs and preferences of all guests. Pets are allowed as long as leashed and quiet with respect to other guests. Waterfall's Lodge prides itself on the experience, enjoyment, and luxury in the wilderness they provide, best noted in their motto, "Come as a guest, leave as a friend."
Featured Video of Waterfalls Lodge
---
Popular Alaska Fishing Destinations
TripAdvisor® Traveler Rating
TripAdvisor® Traveler Reviews
You may also be interested in