Would you like to contact to check availability or learn more?
Fill out the info below and someone from will get back to you.
Email Sent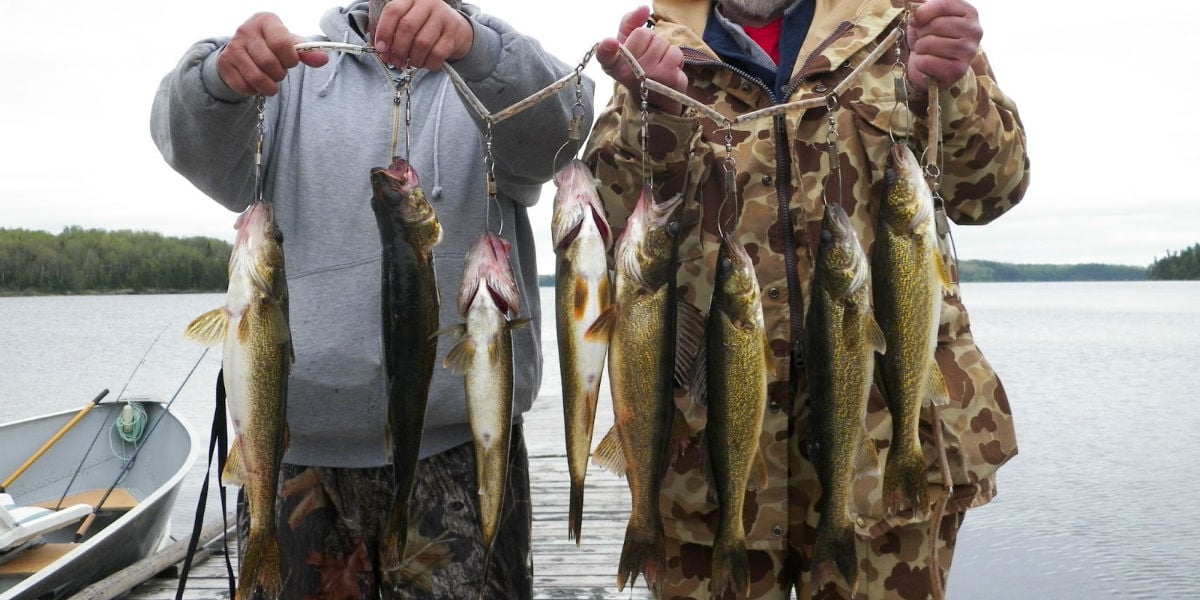 Select closest city to view driving distance:
Approximate Cost:

6 - 7 Days:

$500 to $750 Per Person

Access:

Boat In Camp
In the Northwest of Ontario is where you will find Wine Lake Camp. It has been in the same location for nearly 70 years. This boat-in resort offers guests lakeside cabins. To find this hidden gem of fishing, guests travel by boat for 25 miles along scenic river and lake waterways that feature waterfalls, ample wildlife viewing and takes just under an hour from start to finish.

The resort is remote and the only lodge on Wine Lake. Guests are housed in one of the six log cabins. The cabins offer simple accommodations that feature a screened in porch. All guests share a communal bathing house and water is drawn from a communal spigot. Restrooms are via well-maintained outhouses. The cabins feature solar electricity.
Fishing at Wine Lake Camp
Wine Lake offers over 8000 acres of surface water and plenty of places to find Walleye, Perch, Lake Trout, and the predatory Northern Pike. The lake stretches and turns and its ragged shoreline creates small fishing paradises. Expect to find little-hidden bays with shallows, channels, and deep holes. The lake is dotted with islands and underwater structures that make finding fish easy. The deepest parts of the lake extend downwards 100 feet. Take your time and explore the lake, there are a number of tributary rivers that you can explore too. The backwater fishing lagoons offer pristine fishing and all around you wildlife.
The Walleye and Fish of Wine Lake Camp
Most people come to enjoy the amazing Walleye fishing on Wine Lake, but there is more here than just Walleye. If Walleye are your "thing" then, early June is the time to be on the lake. The spawning run features 1-2 pound Walleye with trophy fish weighing in at 6-12 pounds. Jigs, spinners, and twisters work well to entice Walleye to strike. The largest Walleye caught on Wine Lake measured 34 inches long and was released back into the waters.

The Northern Pike, however, are the monster fish of Wine Lake. These huge fish can reach forty or more pounds. Fishing for Northern Pike is something everyone should try. While Walleye fishing is fun, the Northern Pike offers an even more intense fishing experience. Their mouth is designed to hold prey and as such it makes short work of the fishing line. A good tip is to use a metal leader when you target these fish. They will strike a lure, wet fly, or dry fly. In fact, they love dry mouse pattern flies. Just jig the dry fly over a weedy section imitating a rodent swimming and BOOM — game on.
Featured Video of Wine Lake Camp
---
Popular Alaska Fishing Destinations
You may also be interested in